Hold a Cooking Class for Your Corporate Team Building Event
The kitchen is a wonderful place to teach your employees the necessary skills all successful teams have in a fun manner that allows for team bonding. At Team Building with Taste, our commercial kitchen is the perfect place to craft this corporate cooking class experience for your company's employees. We offer a variety of culinary team building programs, which include cooking in a professional kitchen as well as a private dining experience where your company gets to enjoy your delicious hard work.
Learn how the corporate cooking classes at Team Building with Taste can benefit your company…
Benefits of Corporate Cooking Classes
Learning through Experience
Many business leaders know the secret to achieving success begins with attempting to accomplish something firsthand. Throwing your employees into a kitchen and asking them to prepare a meal will seem easy to some and extremely challenging to others. For those without prior cooking knowledge, the corporate cooking class is a great way to teach them a critical skill – the ability to learn through experience.
While our master chefs offer guidance, they also present intriguing curveballs to your company's teams. Your employees will not only learn how to cook a meal but how to ask for help and how to adapt to their situation in real time to achieve success.
Teaching Employees Goal Setting
As employees work to complete their daily tasks, they can often lose sight of larger goals and objectives.
Team Building with Taste sets a clear goal for your company's teams with a hard deadline. The ultimate goal – winning a competition to make the best meal or dish – must then be broken up into smaller tasks, which are assigned to individual team members.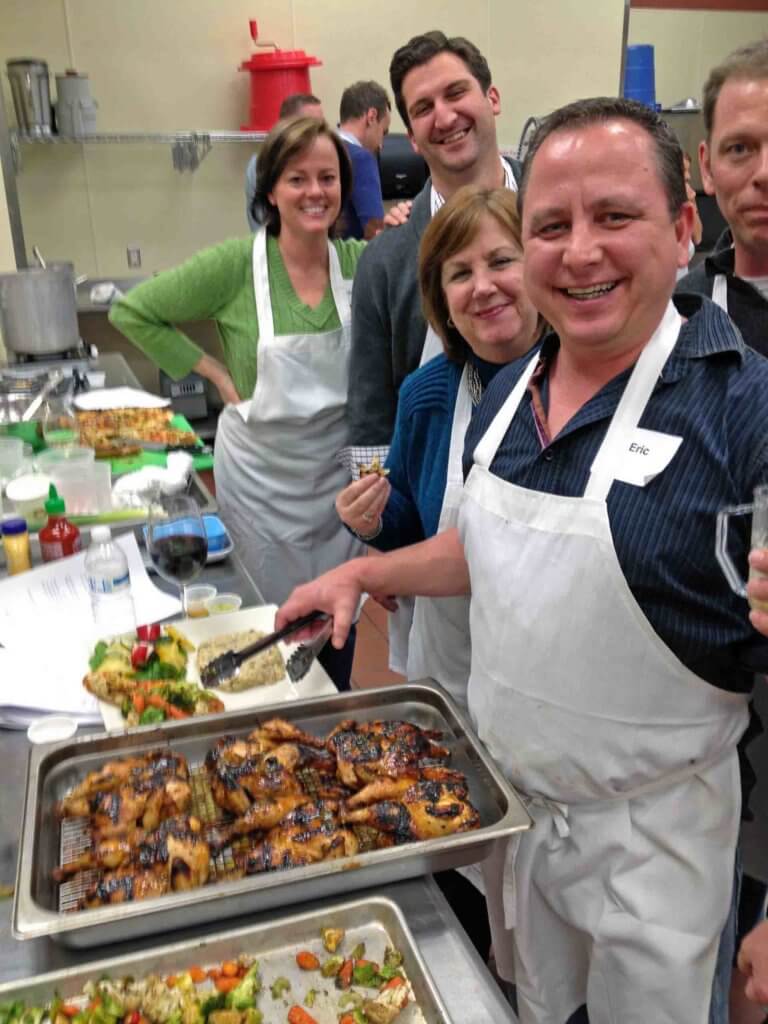 Team members can easily understand their responsibility in relation to the larger objective. This allows them to feel accountable to their team and to see how their efforts can make a positive impact on others.
This marriage of individual and team-wide responsibility is so successful we once had a shocked client tell us, "An hour ago, I didn't think my team could produce a plate that nice."
Encouraging Independent Work & Team Work
Your company's traditional roles will fall away as skill and experience in the office don't always translate directly to the kitchen.
In fact, a rather surprised executive remarked once, "Normally, Glenda is shy and quiet in the office. Tonight, when I suggested an additional ingredient, she turned to me, glared and said, 'No.'"
The best cook usually assumes leadership of a team, and even then, they know their success is dependent on the people working alongside them. They must trust their teammates to accomplish the tasks they assign them, and their teammates must learn how to take direction and even ask for help!
We once overheard an employee tell her co-worker, "That's the first time in five years of working with you that you've ever asked me for help." Our team building programs prove it's never too late to learn how to rely on others.
When it comes to teamwork and success, there's a first time for everything.
Connecting Virtual Employees
There is a steady increase in virtual or remote employees who only connect to their co-workers through digital mediums. Although the Harvard Business Review predicts that 1.3 billion people will work virtually in a few years, there is no substitute for direct interaction when it comes to building high-performing teams.
Team Building with Taste offers the opportunity for remote teams to meet up for a fun corporate cooking class challenge that allows them to brainstorm and collaborate in the same room for a tangible goal – a meal or dish that must be presented to our judges.
Teaching Employees How to Accept Constructive Criticism
As your company's teams work, our chefs are observing their interactions in addition to offering cooking advice and announcing last-minute curveballs.
Once time is up, our chefs sample each team's food, and they offer their professional opinions regarding flavor, presentation, and team work.
Most employees crave feedback, but with bosses just as busy as they are, it can be a rare treat. Each team will have a chance to hear about their strengths and weaknesses from an impartial third party.
Our chefs make sure to highlight the successes of each team before evaluating areas needing improvement, which makes your employees more likely to hear and accept this helpful feedback.
Discover Corporate Cooking Classes Today
Reward your employees with a fun corporate cooking class, and enjoy the benefits of their team building success when you return to the office the next day.
Call 770-670-4230 (ext. 208), or send us a message online to book your team building event today.
Atlanta & Dallas Locations
Learn more about our Culinary Corporate Team Building programs in Atlanta & Dallas.
Atlanta Corporate Team Building » Dallas Corporate Team Building »