Your Cooking Team Building Prizes
Cookbooks
Atlanta Chef's Table, $35
With more than 100 recipes from Atlanta's best chefs, like Anne Quatrano, Ford Fry, Todd Ginsberg and Kevin Gillespie, this cookbook is full of photos, anecdotes and lore. Atlanta continues to pioneer the South from casual comfort food to the finer foods. Whether you prefer downtown restaurants or favor the ethnic mecca that is Buford Highway, you'll find Atlanta's best chefs innovating and redefining the culinary food scene in the big Peach. With 100 recipes for the home cook, this collection will expand your understanding of Atlanta food. Whether you are a lifelong resident of Atlanta and have eaten at every restaurant mentioned, or simply a visitor who would like a representative keepsake, this cookbook makes the perfect Cooking Team Building prize for the winning teams or a team's MVPs. This prize is available for all Team Building with Taste events at our Atlanta location.
United Tastes of Texas, $35
There are many things that are big in Texas: Wide open spaces, personalities, hair, but above all, there's flavor! United Tastes of Texas is your geographical guide to Texas cuisine based on five distinct culinary regions: Central, Coastal, East, South, and West Texas. This cookbook is the perfect prize if you are joining us at Team Building with Taste in Dallas. It features 125 recipes featuring traditional and regional-specific dishes and cooking methods including Texan takes on Black-Eyed Peas, Skillet Cornbread, Shrimp Creole, Smoked Brisket, Smoked Tortilla Soup and more.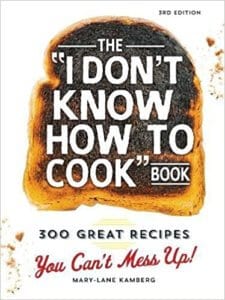 The "I Don't Know How To Cook" Book, $35
We love this book. It makes the perfect gag prize for the "last place" or losing team in either Dallas or Atlanta. Everyone laughs! But,  it's a pretty good cookbook in itself–its just that the recipes are simpler. No foams or sous vide here. Want to know how to make cheese toast? How about French onion soup or a no-bake cheesecake? If so, this is the cook book for you.
Professional Apron with Our Logo, $42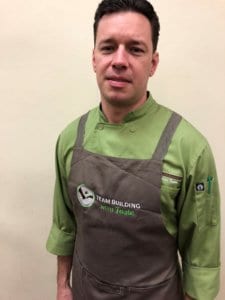 This good looking apron is made from a light polyester/cotton blend and is worn by professional chefs around the world.  The Team Building with Taste logo is tastefully embroidered in fine detail on the bib, and the colors all work together to create an apron that both looks good and will provide you with years of comfort and protection while cooking.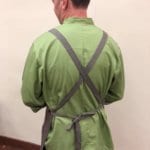 Fully adjustable to fit all sizes and shapes, our Team Building with Taste apron also features attractive back cross straps, as well as two deep pockets and a towel loop.  It's lite weight, not stiff or starchy, and  makes the perfect commemorative gift for members of the winning team or the MVPs.
Instant Read Digital Meat Thermometer with Logo, $22
You'll cook like a chef with this professional instant read digital meat thermometer. It gives an accurate temperature within 3-4 seconds, so you won't ever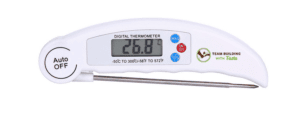 have to worry about drying out your your next steak or making chicken sushi! The backlit display gives temperatures in both Farenheit and Celsius and the folding probe automatically turns the unit off when in the closed position.  With our silk screened logo, it makes the perfect commemorative gift for team building participants and will provide them with years of cooking enjoyment and accuracy. Battery included.