Team Building with Taste is the team building program that we've built our reputation on. More than 10,000 participants from some of the world's leading organizations have experienced immense success with this program.
This three hour, comprehensive team building event is designed to build collaboration and trust among colleagues. In fact, the curriculum was written with business principles in mind. Many of the situations and challenges – both planned and impromptu – mirror a typical day at the office or factory.
Our culinary team building program is so compelling that 80% of recent participants surveyed called it the "best team building event they had ever attended." Food is an integral part of people's lives, which allows people to readily connect over the subject. This is why we've built our team building program around a culinary experience that involves participating in a cooking competition, which whets employees' appetite for fun, food, drinks, and a little healthy rivalry.
We offer the choice of seven different four-course menus, and each menu was meticulously crafted by our master chefs for the variety of culinary techniques required.
Upon arrival, your group enjoys appetizers and libations while we facilitate picking the teams.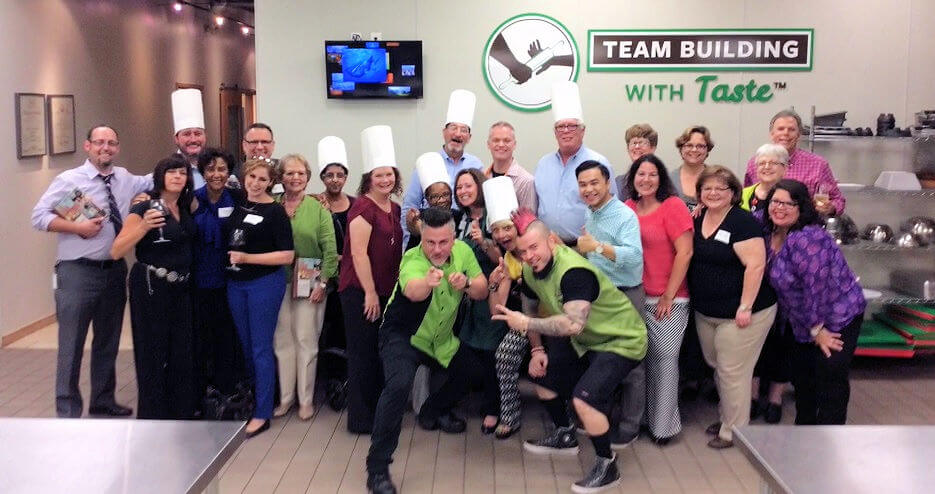 Then, you move to our custom-designed commercial kitchen – commercial appliances and equipment included – where each team competes to make the same full-course meal. Teams are encouraged to add their own spin on the meals by foraging our extensive 100-plus item pantry.
As the chefs guide you, they also introduce challenges, curveballs, and speedbumps, which requires your team to immediately react. As time winds down, each team makes a beautiful judges' plate to present to the group.
To "influence" the judges during their presentations, each group is encouraged to make their presentation unique. Some groups play the melodic tunes of Adele on our sound system, while others wax eloquently about their Cornish game hens, and a few have even been known to employ fake Italian accents.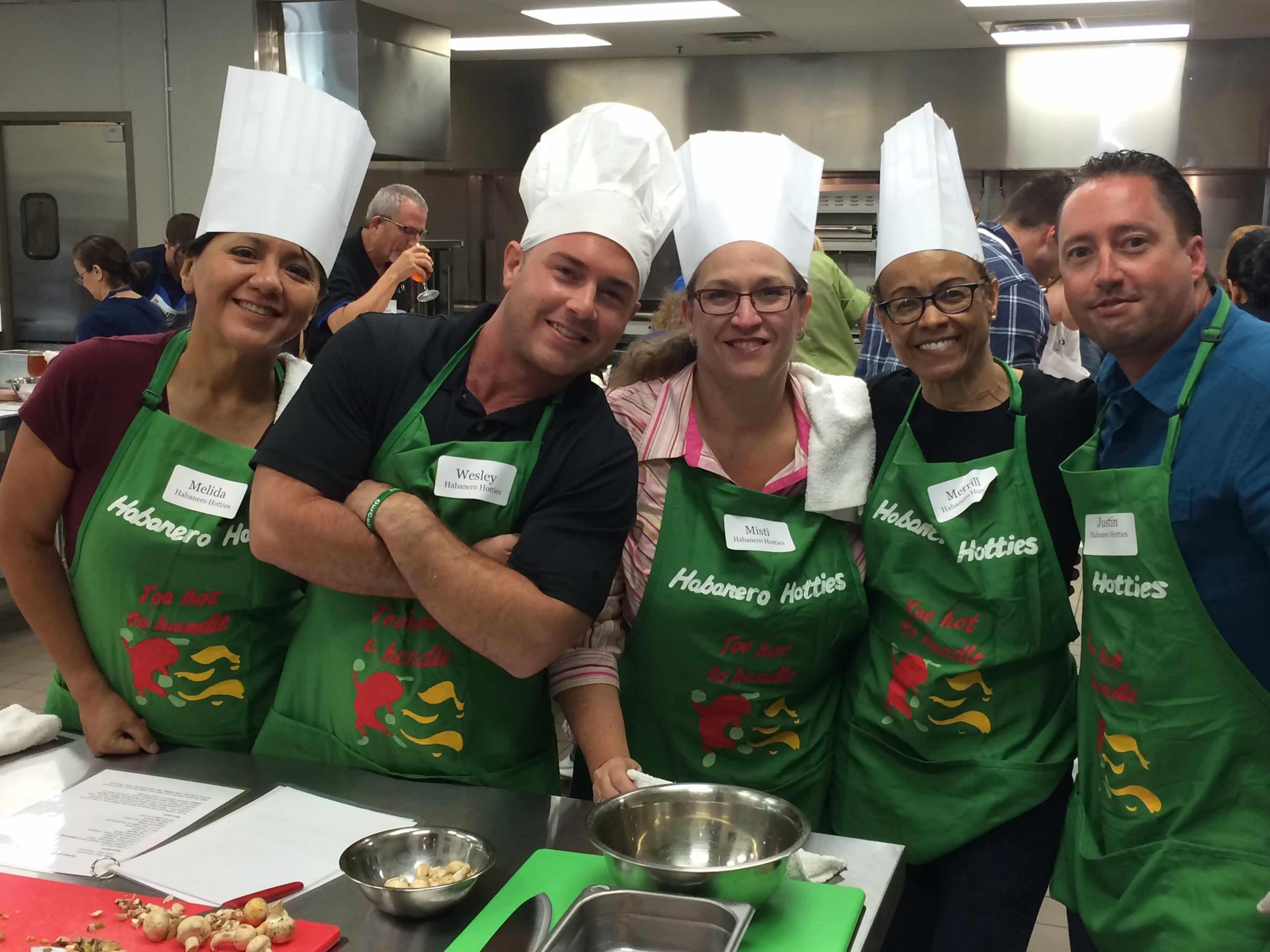 As you enjoy your fantastic meal, the judges are busy tasting the dishes each team has created. When they come back with the results, they facilitate a discussion about both the food and the team's dynamics. How did you organize your team? How did the team react collectively to the speedbumps? Who was your MVP? Why?
For a little more than the price of a nice dinner out, you get a great culinary experience in a fully-equipped commercial kitchen and private dining room. Get ready to be engaged and stimulated by working closely with your teammates to beat the latex gloves off the competition.
At Team Building with Taste, we combine corporate and culinary expertise for a unique team building opportunity.
Book Your Team Building Event Today
Discover the team building event that is fun and wildly successful at building relationships between team members. We offer an exciting and influential cooking experience that transforms groups of employees into successful, high-performing teams, and we have locations in Atlanta, Georgia and Dallas, Texas.
Team Building with Taste provides a great return on investment only costing between $89 to $109 per person plus a team building program fee of either $399 or $699 depending upon group size, plus actual beer and wine consumed.
Contact us online to book your culinary team building event at Team Building with Taste today!